Remember that fire station engagement shoot with Jessica and Zeph? They're baaack! It's wedding time!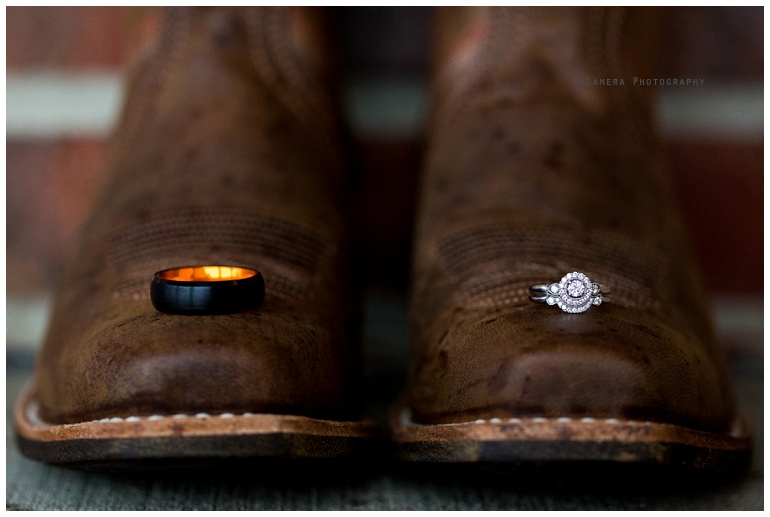 Hello, gorgeous dress! Just wait until you all see it on Jessica.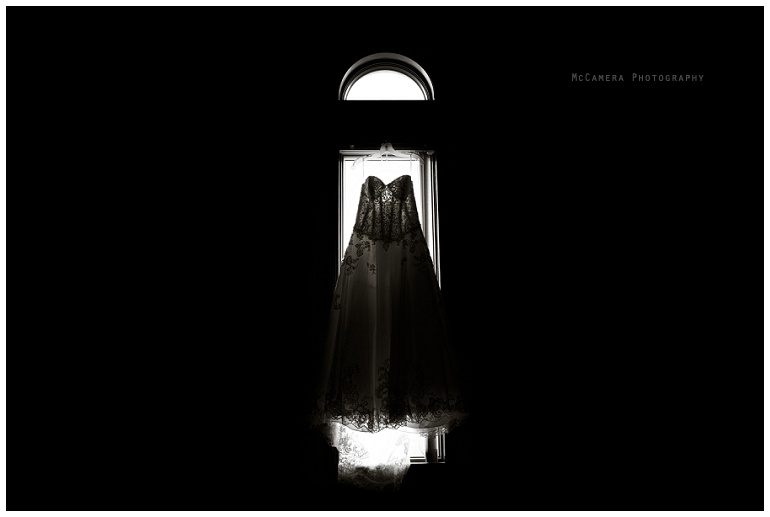 First stop – getting that hair styled. Jessica had her maid of honor's mother style her hair for the big day. They have all been family friends for quite a while.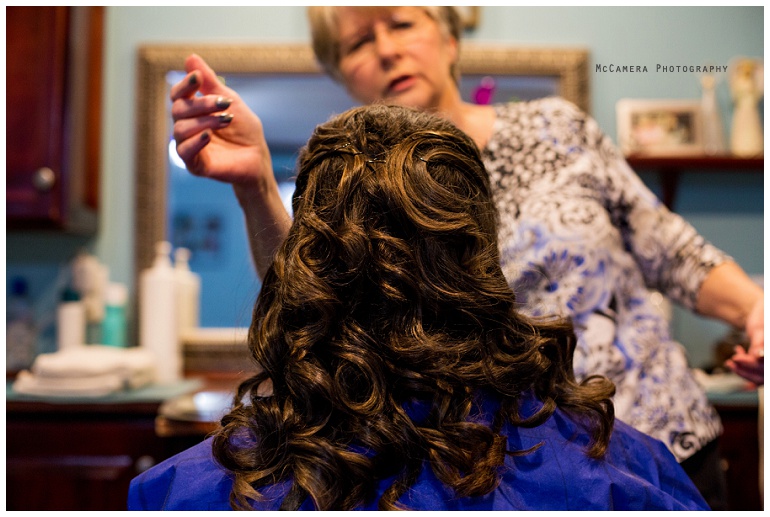 See Jessica's mother there in the mirror? 

Yes, for moments like this! Jessica spent part of her morning chatting and hanging out with her bridesmaids. Such a relaxed and easygoing bride. 

She is also a very thoughtful individual. After getting her hair done, she drove to the funeral home to pay her respects to someone who passed away in the community. I don't know of too many brides who would stop to do that on their wedding day.


Finalizing that makeup!


Here's Zeph! Workin' that tie.



Zeph is an incredibly hard worker and downright funny. You should meet him.


Boots were the perfect choice for their wedding.


Well, look at that! They used several images from their engagement session as decorations.


They not only used the firetruck for their engagement session, they also brought it to the ceremony! So cool.


STOP IT! Cuteness overload! Meet Rae, a.k.a. the flower girl. These gals are two peas in a pod.


Bridesmaid Brandi putting the finishing touches on her hair.


Jessica's mom placed her necklace on her.


It started storming when it was time to start pictures. We took advantage of that time and grabbed some indoor portraits! I'm obsessed with that second picture of you, Jessica!


Since the rain let up a bit, it was time for the first look. Zeph waiting on Jessica to tap him on the shoulder. Maybe he's straightening his tie?


There she is!!


These two met each other through Chrysalis.



A favorite!



Love this one of you, Zeph.


Oh my gosh. I adore this shot so much. You look crazy beautiful, Jessica.


How stinkin' pretty are these bridesmaids?!


The cold. The rain. The wind. Nope, that didn't stop them from this picture! They embraced the rain on Jessica and Zeph's wedding day! That rain is part of Jessica and Zeph's story, and I love that their photos show that. That's one of our goals – telling your story.
Side note: I needed a little more room behind me to get the whole wedding party in the picture, but there was a car in my way.
Me: Gosh, I wish I could move this car.
Kayla (second bridesmaid from the left): Oh, that's my car!
Me: (getting excited) Awesome! Can I sit on it?
She let me! Thanks for making this photo happen, Kayla.
(No cars were harmed in the making of this image.)


Brother/sister (ring bearer/flower girl) hugs. And this classy, young lady (Jamison) always had a smile as she greeted the guests.


Jessica's mother making sure her dad (Jessica's grandfather) is ready to walk his granddaughter down the aisle.


They were married at Carbon Baptist Church.


Jessica's mom joined them when they reached the end.



In this little town, everyone seems to know these two – Char and Ray Chamberlain. And everyone seems to know them because of their kind hearts. As I was walking behind them, I glanced down and caught this. Holding hands as they watch Jessica and Zeph hold hands during their ceremony.



Just look at that smile!


Braiding a cord of three strands.


Jessica and Zeph decided to personally greet each row after their ceremony. So many hugs!


THIS was their getaway vehicle!


The More the Merrier had dinner and dessert set up when everyone arrived at the reception venue. They had cobbler and ice cream for guests! See, you can break that cake tradition! Fun Fact: Nick and I served Subway cookies at our reception instead of cake because we met at Subway.


We grabbed a few more shots of the now Mr. and Mrs. Smith before those first dances.


Girl, you are glowing with happiness.


The whole gang!


Eeekkk!! I'm in love with this shot, ladies.


First dance.



First dance with Grandpa.


Dancing with his mama.


Jessica also danced with her mom.


Then everyone swapped! Zeph danced with Jessica's mom and Zeph's mom danced with Jessica's grandpa. 

AND Jessica danced with Zeph's dad. See?? Everyone's already one big happy family.


Cuteness overload AGAIN!


Wish I was dressed as fashionably as those two cute little ladies.

Broken foot? That doesn't stop these bridesmaids from dancing!


It was a good night.


Winners of the anniversary dance which means they've been married the longest of anyone attending!


Zeph's parents. Love these two.


I'm pretty sure it was this exact moment when I saw Zeph start to take off his tie, I threw my hand up in the air like I was holding a stop sign, and said, "Wait!" Then I asked him if he would mind to take a couple more pictures outside. His response? "I'll do whatever Jessica wants!" Now that's a good guy. 

They did! And they were hardcore troopers because it was COLD that evening. Thanks, friends!



Jessica and Zeph,
Thank you for rocking the rain, the cold, and your entire day! It was such an honor to photograph your wedding. I'm so glad you made it your day with the cobbler & ice cream, firetruck, and boots. We so appreciate your patience.
Caitlynn & Nick
Recognize this shot? When it started storming, we opted for a few indoor portraits.




Nick's always sneaking up behind grandmas. 

Photographed BOTH of these brides! Remember beautiful Andi from Andi and Ryan's wedding?


Oh, this is just Nick being Nick. My parents were actually guests at this wedding and as they were getting ready to leave, Nick gave my mom a hug. Well, she thought it was a hug, but he started to dance with her. P.S. The guy laughing in the background. That's my dad.