Meet Abby and Ryan!  They are getting married in October.  Congrats, guys!  After they get married I think they have a future in modeling.  You'll agree with me after you take a look below!  Starting off with a favorite.
Meet Raina!  Like I mentioned on our Facebook page, Raina is no third wheel.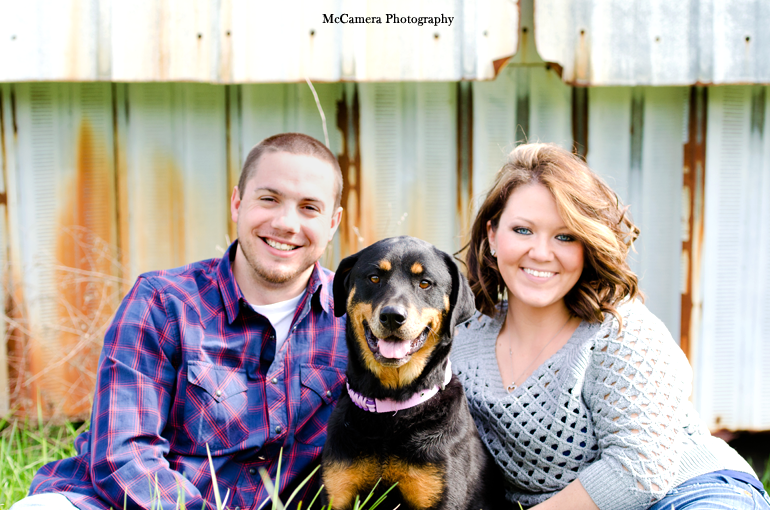 Raina, I do believe you can go into modeling with them!

Not too long after this photo, Raina decided it was time to jump into the pond.

Back to our happy couple!


Seriously guys!?  We just adore you two!

We didn't have to go far to take these pictures.  All of these images were taken in Ryan's backyard.  Nick and I could have spent all day there.  They made it super easy for us.

We found this really cool shed and Abby & Ryan would pop up and create some pretty awesome faces.  I would shout 1…2…3…pop up or 1…2…3..pop up and look at each other!  BUT, one time I forgot to say pop up and just said look at each other.  Sooo, they stayed below and made faces at each other.  Ha!  EXCELLENT direction followers – even when I mess up!

 One more on Ryan's land.  Love it.

Outfit and location change!

Yep.  I'd say they love each other.

Abby, you are gorgeous!  Just gorgeous.


Calling all modeling agencies!  We have the couple for you!  Good golly.  Look how perfect they are.

Ending with another favorite.

We had way too much fun with you guys!  Thanks for letting us spend the day with you.
-Nick & Caitlynn