Remember Brandy and Mitch's romantic engagement session?  Now it's time to share their wedding!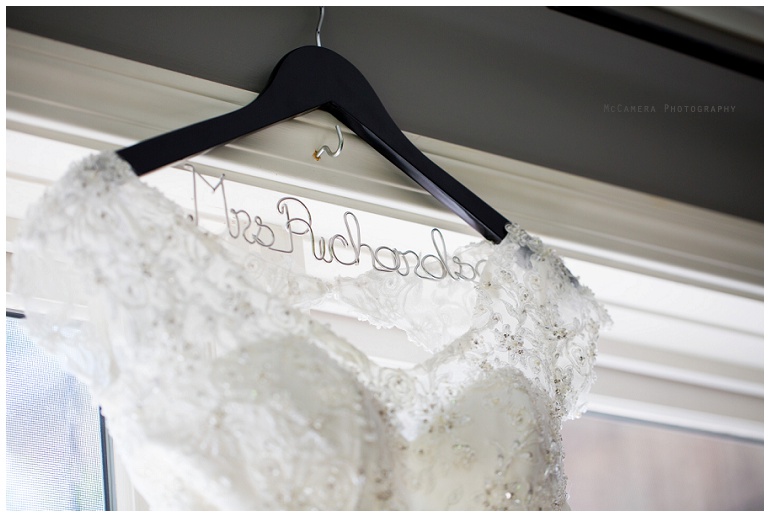 See that dress location below?  Brandy's mom's idea!  Perfect.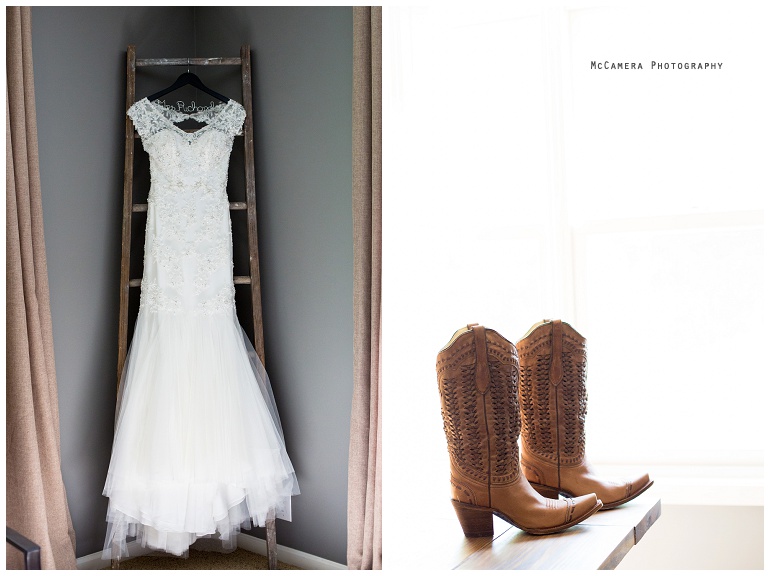 I'd say we can never have too many dress shots!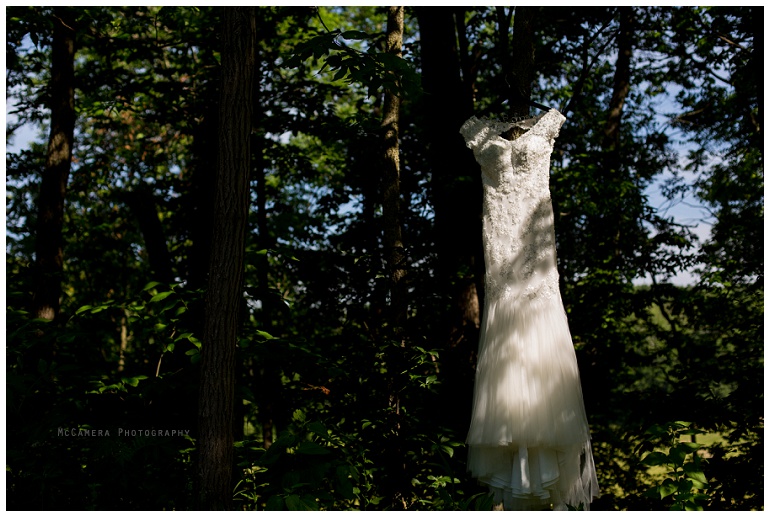 Isn't Brandy utterly adorable?  Mitch's sister did Brandy's hair.  Wait until you see it!  Fun fact:  I went to high school with Jessi!

Don't you love the bow tie?!

While the girls spent the morning getting dolled up, the guys spent their morning playing a little golf.

It was a pretty hot day, so some of the guys came back with sunburn including my husband, Nick.

Brandy's stepdad added a little tape and writing to the bottom of Brandy's water bottle.  Ha!  I have to say that she was the complete opposite of a bridezilla.


Gosh, I love getting ready images.

Eeekkkk!  I could have squealed when I walked in Brandy and Mitch's house.  It was the first thing I saw when I walked into their living room.  These canvases are from their engagement session we photographed.  I could not love this more!

The boys made a pit stop for some food.

Love these two side by side. Brandy getting her hair done;Mitch making sure he looks good for his lady.

Bride and flower girl putting their pretty white dresses on.

Meet Brandy's gorgeous mama.

LOVED spending my morning with these four beautiful bridesmaids.

Brandy decided to do a first look with her dad and stepdad.  So many tears!  I couldn't tell you how many times the Kleenex box was passed around the room.

Good golly!  Just stop it, Brandy.  GORGEOUS.

After Brandy finished getting ready, Mitch's mom walked up to her and showed her this necklace.  She told Brandy that it was last thing her dad left her and she wanted her to have it as she place it around Brandy's neck.

Mitch received a special letter and gift from Brandy.

I adore this shot of Mitch's mom watching him get ready for the ceremony.


They opted to hold hands before the ceremony without seeing each other.  Brandy walked down the aisle right behind this tree.

Now I've gotta say it to Mitch.  Stop it!  Good gracious.  You two are perfect for each other.

Nick always rocks those groomsmen shots.

Ladies, can we talk about how perfect these dresses are on you?


Gah!  Dying over here.

Seriously.  Look at that hair.

She had both her dad and stepdad walk her down the aisle.

I was gushing over their ceremony.  They were married at The Barn of Coatsville in Indiana.


Love the way you two look at each other.


Brandy, you could not be any more adorable!  Right after the ceremony, they walked off and gave each other the best hug.  When she looked up, she saw me standing there and gave me this thumbs up.

You guys look good!

Wedding party, you guys rocked this shot.  When I look at this, I want to go back to this day.

Portrait time!


This is the one shot Brandy and Mitch requested.  Shut up!  I can't get over it.  Mitch even hauled around all his lineman gear for this.


These two could not keep their hands OR their foreheads off of each other (even for the cake cutting)!

First dance.



I about died when I saw this.  Grandpa dancing with all his granddaughters.

Everything was packed up.  The guests had left the building.  We requested one last shot with these two.  I'm so glad we did.

Brandy and Mitch,
We cannot say enough good things about you two.  You made our job easy.  Your love is beautifully evident.
Caitlynn & Nick
**********************
I have no idea what Nick and Mitch are doing, but I love the fact that Nick is holding the bouquet.

I've gotta say it again.  Loved photographing this wedding party!

Every once in a while, Nick starts dancing as he photographs the reception.  It looks like he was trying to talk Grandma into joining the dance party.