Meet the Hodge family!  First up, Calvin!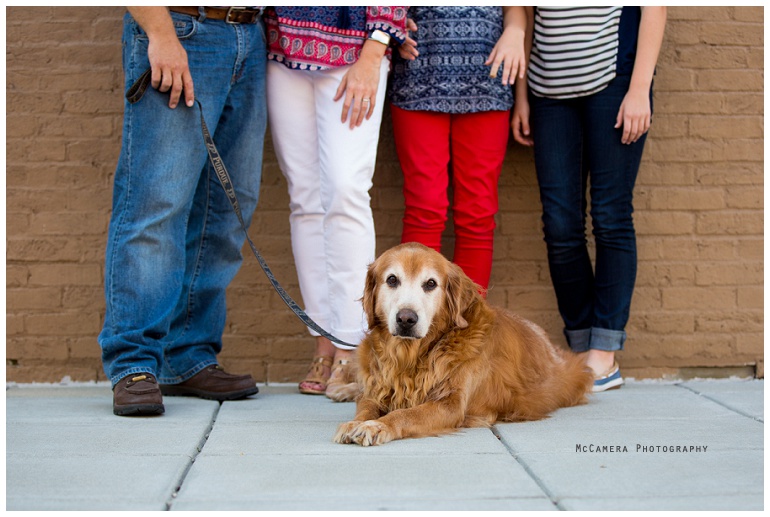 YES!  Happiness all around.  We started our session in Greencastle, Indiana.  So many great locations.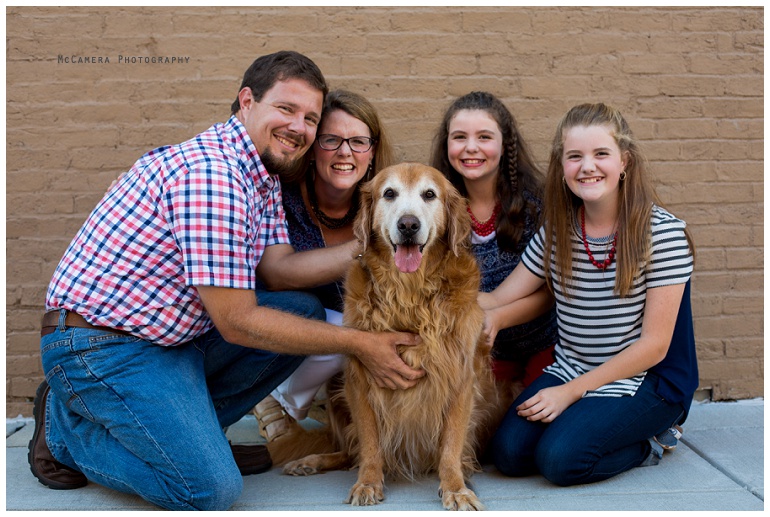 Natalie asked us to photograph her family for her birthday.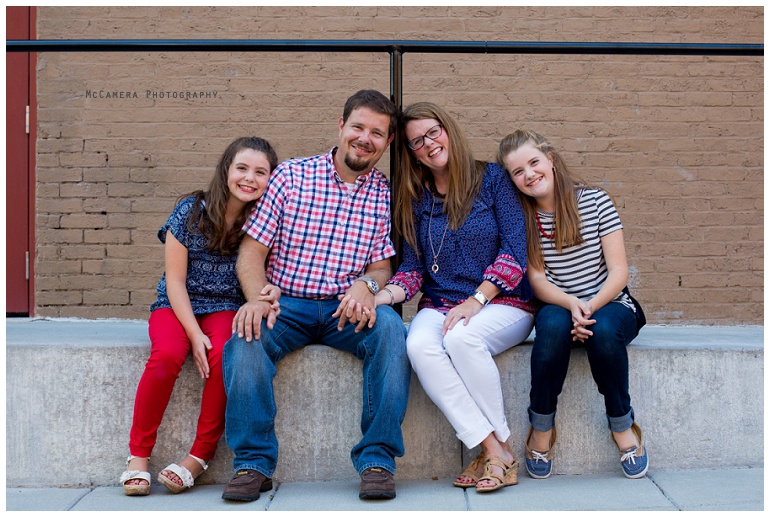 Can we please talk about their outfits?!  LOVE them so much.

Why hello there, sweet sisters!  Catherine is on the left, and Caroline is on the right.  I keep thinking how much this image will mean to these young ladies thirty years from now.  P.S. These young ladies have got it together.  You'll find their names in the honor roll section of the newspaper.

I gave Catherine and Caroline a quick survey about their parents.
How do you know your parents love you?
Catherine: They are there anytime we need anything.
Caroline: They keep me eating healthy.  (I've got a huge sweet tooth.)

Oh man, love that shot on the left.

What is your mom really good at?
Catherine: Teaching us everything we need to know/worrying about us.
Caroline: Getting really excited.
By the way, their mom, Natalie, is a fantastic teacher who has so much enthusiasm.  Her students love her.

Pretty ladies.

Calvin has been in their family for many, many years.  He's precious.

What do you think your dad loves most about your mom?
Catherine: Her personality.
Caroline: The fact that she cares for other people.

The girls watched as we gave their parents a little mini session of their own.


What is your dad really good at?
Catherine: Fixing things.
Caroline: Giving me computer lessons.

Ahh!  One of my favorites.

If your dad turned into a cartoon character, who would he be?
Catherine: Doc McStuffins (He fixes everything we break.)
Caroline: Bob the Builder (Again, he fixes things.)
1. I had to look up Doc McStuffins.  No idea who that was!
2. As I'm reading the questionnaire they gave back to me, I adore how these girls took time to explain their answers.  Maybe that's just the teacher in me.

On the right:  Yes! It's okay to choose a path others aren't taking.

Just the girls and Calvin.

What is your mom not very good at?
Catherine: Doing nice things for herself.
Caroline: Leaving a messy house.

Sigh.  Another favorite.


I'm pretty sure their cheeks hurt after the evening with us.

I'm in love with that shot of Caroline and her mother.

If your mom turned into a cartoon character, who would she be?
Catherine: Garfield.  (She loves fat cats!)
Caroline: Cinderella.  (She's very pretty.)
Girls, I'm oohing and aahing over all your answers.

What is your dad not very good at?
Catherine: Cooking.
Caroline: Buying cars.


I'd say it was a successful day.

Natalie, Michael, Catherine, Caroline, (and Calvin),
We love everything about your session.  Thank you for being up for ANYTHING.  Love your love for each other.
Caitlynn & Nick

Nick was eager to watch Calvin while I grabbed a few shots of the family.  He was quite the charmer.  Calvin, not Nick.  Ha!  (Don't worry, Nick.  You're pretty handsome too.)

He was a magnet for college students!