Meet the Pruitt family! Oh my goodness, I don't think I've ever laughed so much during a session. If you need a pick-me-up, go hang out with these guys for an evening!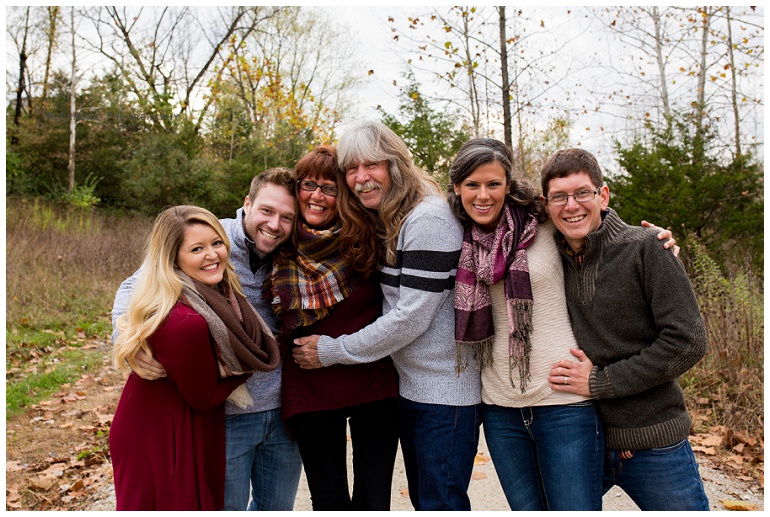 We photographed them at the DePauw Nature Park in Greencastle, Indiana. 
You guys!! Your outfits are perfection.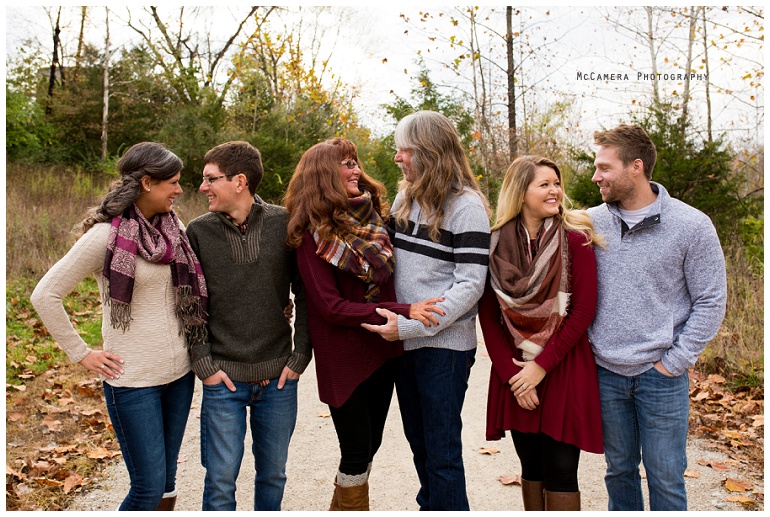 Gotta get a shoe shot! 

Let me tell you – this family came prepared! They brought their mirror and trash bags to put coats and clothes in since it was a bit damp out. It rained for the most of the morning/day, but the forecast showed that the rain would be gone in time for their session. It was! 

Can I please photograph you guys every day?! 

Meet Heath and Ann! They both work at schools. Heath is a counselor at a middle/high school while Ann is a music teacher at an elementary school. 

Meet Laura and Tim! With those smiles, you both need to be in an ad for Crest toothpaste. 


And meet Dee and Harry! These two are Heath and Laura's parents. (Okay, I think I'm jealous of all your scarves.) 

Gah! This family! 

They were up for anything!! 

See? I told ya! Anything! (I'm loving the attitude in this shot.) 

This was a bit of a surprise to some people. You can catch the video clip of what happened at the end of the blog.  

Remember when I told you that this family was prepared? They even brought a tarp to place under their blanket so it wouldn't get wet. 

You guys look incredible! 


One of my favorites!! 

Can't forget to snap those hand-holding shots. 

Gah! I love this one too!



Laura, your hair! I'm obsessed. 

Ann made this blanket for Heath several years ago. 

Ann, I adore the way you are smiling here! So pretty! 


Same moment. Nick's shot on the left and mine on the right.


Dee and Harry's kids gifted them this session. How sweet are you guys!


The four "kids" on the left and the whole family on the right. 

I can't get over these next few. 


*Insert heart eye emojis everywhere if I knew how. 



Tim picked Laura up and asked if we could get a shot of them like that since that is something they often do. Then I turn around and see Ann picking Heath up! 

We were all finished with pictures when I remembered we didn't get a brother/sister picture or one of them with just their parents. Snap! Got it! 

Dee, Harry, Ann, Heath, Laura, and Tim,
THANK YOU all for having so much energy, enthusiasm, and excitement! It was an absolute honor to photograph each one of you.
Caitlynn & Nick
That's me grabbing a whole family shot while Chloe gets some footage for an Instagram Story which you can view below.


Hey there, Nick! 


Click HERE to view this family's behind-the-scene Instagram Story from their day! (You can follow us on Instagram @mccameraphotography)